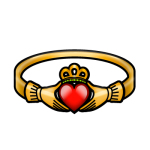 The Claddagh ring is the traditional Irish wedding ring.  The symbolism of the Claddagh ring gives it significance and timelessness:
The hands denote friendship and togetherness
The heart is a sign of love
The crown above the heart signifies loyalty and fidelity
The history of the Claddagh ring dates back to the 17th century.  The tradition of Claddagh rings first started in a small fishing village in Ireland called the Claddagh.  The word Claddagh itself comes from the Irish term 'An Cladach' which means a 'flat stony shore'.  The Claddagh is worn by people of Irish descent the world over as a source of pride in their heritage.  The Claddagh motto is a beautiful description of the essence of the Irish spirit…
"Let Love and Friendship Reign!"
At Heart & Hands, the Claddagh evokes additional meaning:
Our hearts are passionate about wine – Heart & Hands blossomed from our love of the fruit of the vine
With the support of dear friends and family, we hand-craft the wine, using labor intensive hand picking and hand sorting techniques
We do all of this out of loyalty to our customers – who deserve the highest quality wine that we can produce – From our Heart and Hands to Yours!